Ouwave new brand scent system machine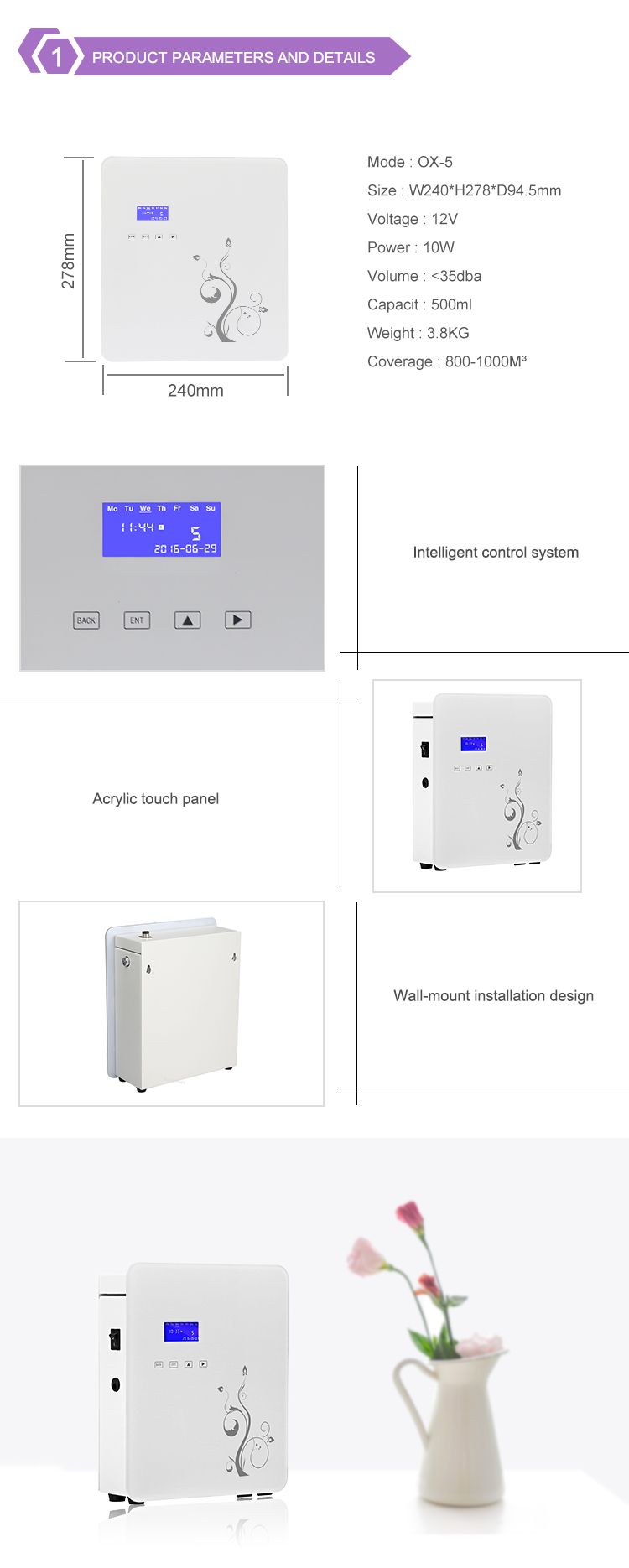 It has following system highlights:
1. Built with the inbtelligent timing system, support three work periods and intensity setting for 24h by yourself
2. HVAC connecatable system and can be mounted on the wall
3. Arylic touch panel makes it delicate
4. Built in fan and press type separation design
5. 500ml capacity and 800-1000m3 coverage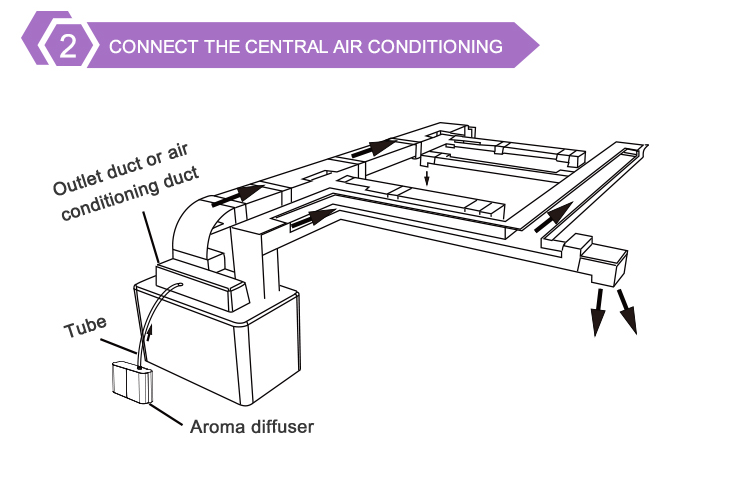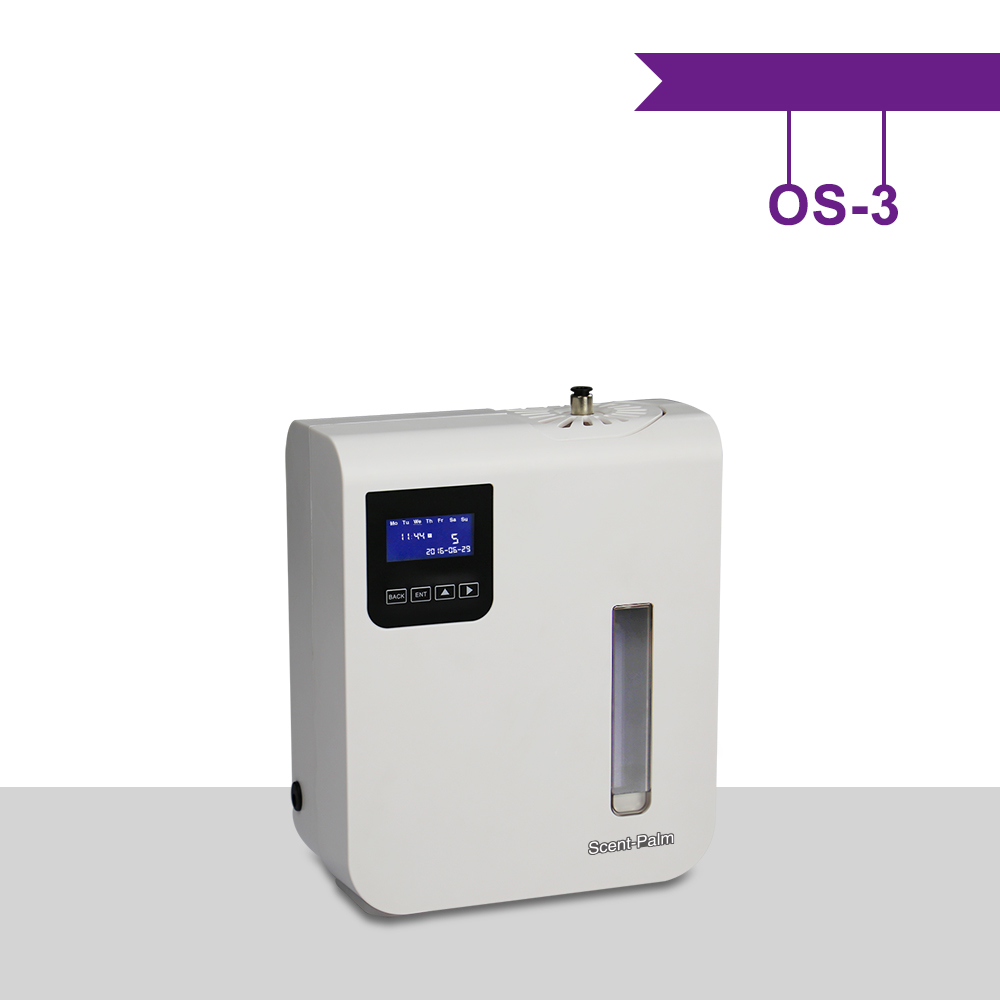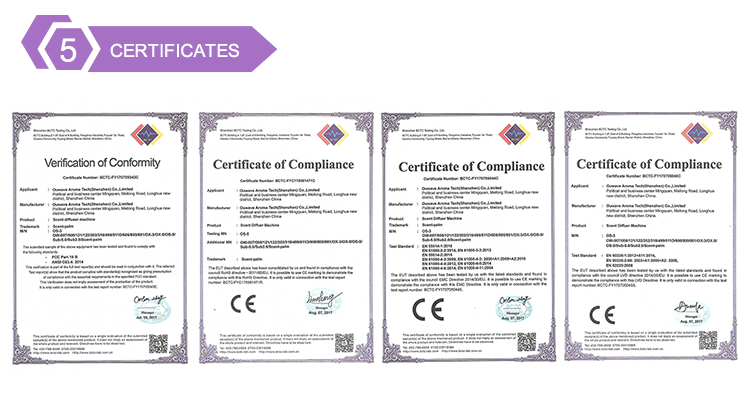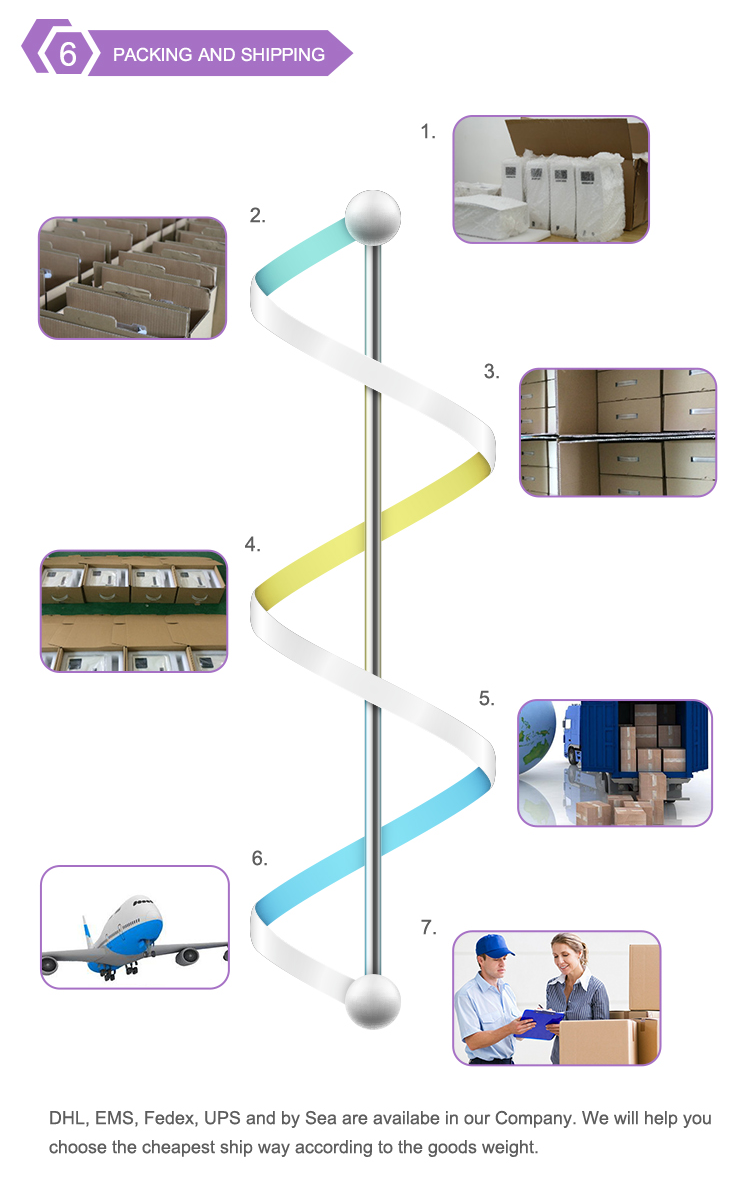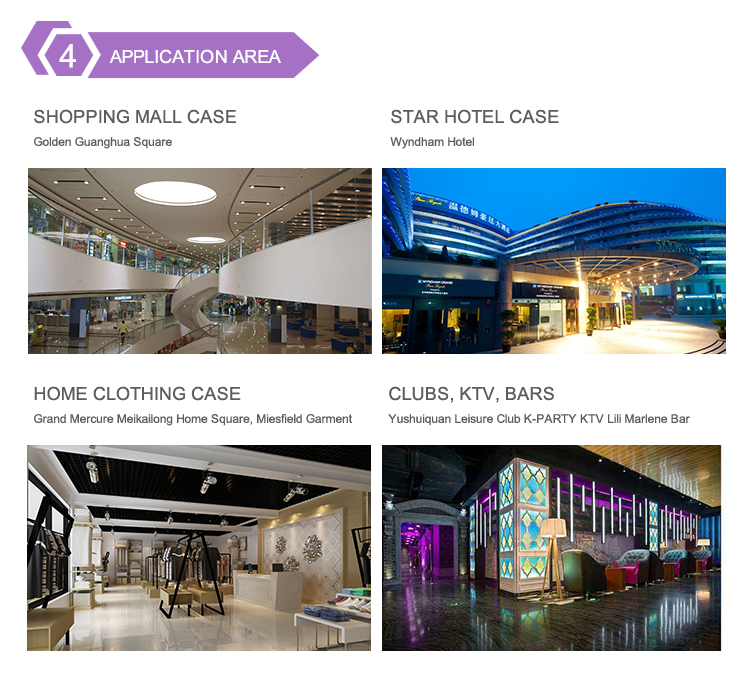 So, you've read all there is about the financial potential of an air freshener business, and you're now thinking of making the world a sweeter smelling place by starting one up. But just as running a profitable air freshener business has its own set parameters, establishing one has just as many important steps to help position you for optimal success.
Every successful enterprise depends on similar factors, as all business developers seek to generate more qualified leads, attract more customers and glean more revenue. Establishing your end goal is certainly a good start but between that point and success, there are a myriad of mandatory stops in between, all of which require careful thought and consideration, and particularly, no way to pass go without collecting $200.
It must be noted that starting a business is not at all like that movie in which Kevin Costner promised: "if you build it, they will come." Truth be told, if you build it, you have to do your homework or they won't come. This translates into developing among other things, a finely tuned business plan, an honest assessment of finances, the filing of all necessary legal paperwork, the selection of experienced partners and the best systems available to generate marketing and sales. Ultimately, the successful air freshener business entrepreneur must find a way to stay on top of the performance of each of the above-mentioned moving parts.
So we created the following step-by-step guide to help keep you ahead of the game and serve you well on your path to creating a successful air freshener business.
1. Creating A Name For Your Business
A bearded and very eloquent Elizabethan bard once contemplated the power of a name, or specifically, that of a rose, but even he in all his brilliance, failed to comprehend its far-reaching influence in the world of business. The right name can transform the most mundane company into a tenuous spotlight, which may or may not be able to sustain its shine depending on the quality of its products and services. It' promotes that moth-to-the flame attraction with yet unknown clients that are initially drawn to what you call yourself and your services.
What qualities should a business name have?
Coming up with a good business name can be complicated. For any business, the name should convey the expertise, value and uniqueness of the product or service that has been developed. Begin by first trying to decipher what it is you want your name to communicate to the public-at-large. One way to do this is to develop a mission statement and work from there. This will become a visual aid in pinpointing elements you want your name to emphasize. Remember that any name you choose can be potentially effective if it is marketed correctly.
The more the name of your air freshener business communicates to consumers about its nature, the less effort will be needed to explain what it is about. There are several schools of thought to consider, albeit they are every bit as contradictory as those old life axioms, 'look before you leap' and 'he who hesitates is lost.' Ultimately, you will need to make an executive decision and understanding these alternatives may help.
Some experts believe that the best company names are abstract, blank slates with no associations upon which to conjure a mental impression. There are also those who will argue that names must clearly inform so that customers know immediately what the business is about, and still others claim that names comprised of made-up words are more memorable than those that employ real words.
Ultimately, you must remember that naming your company is serious business and it should not be an endeavor that is either rushed or imitates too closely the brand name of another company. (Air Scent's fine name, for example, was there first and was later stolen by another firm by simply reversing the order of the two words.) Once your decision is made but before you register it, make sure your name isn't already taken in your state by consulting a domain name registrar such as Blue Host.
An online domain search (see first link below) will reveal whether or not your desired name is available. Still, don't stop there. Do the same with your desired social media monikers. If the domain name and/or social media names you want aren't available, you must choose another. If the name is being used in another state, as long as it isn't trademarked, you can still use it in yours. Business names are always registered on a state-by-state basis.
2. Register Your Corporation
While specific rules do vary from state to state, generally speaking, the registration process is similar, no matter where you may live within The United States. Although the federal government does not regulate all small business activities, some companies must satisfy requirements at the federal level. In addition, businesses are also regulated on the state and sometimes even local level. It is the responsibility of the air freshener business owner to check what is required for the specific business location on all three levels.
Federal registration requirements
One of the very first air freshener business decisions concerns how it will be registered, as that choice will determine how much regulatory paperwork the business will have to file as well as the taxes it will pay. There are basically three types of business structures: the sole proprietorship, the partnership and the corporation.
To ensure that your business complies with government rules, familiarize yourself with the requirements for employers and businesses in your industry. In order to become a viable legal entity, your must also obtain a tax code, a business license and /or a seller's permit. The most common federal stipulation is the IRS mandate for an Employer Identification Number (EIN) also known as the Tax identification Number (TIN). Most sole proprietors with no intent to hire employees are exempt from this regulation.
The IRS Tax Information For Businesses page at www.irs.gov is very helpful and provides general information every business owner must know about this step. The purpose of an EIN is to help the IRS determine the taxation rate owed to the government. It couldn't be easier to apply for, as the process can be completed online and the EIN is issued immediately during the application session.
3. Apply For Business Liability and Auto Insurance
There are no absolute rules concerning how much business and auto coverage an air freshener business should have, but in the United States no one can operate a business without having some basic insurance policy. It is important to create a budget for insurance and perhaps consult a broker to guide you in choosing the best and most appropriate policies to protect your new air freshener business. A minimum amount of business auto liability insurance is required in most states, although the exact amount varies from state to state. Usually, it is the same for both personal and commercial auto liability policies. It provides peace of mind and important safeguards for your air freshener enterprise. It also helps to cover financial responsibility if you or an employee is at fault in an accident and people are injured or their property is damaged.
If your air freshener business enterprise owns, rents or leases vehicles, or even if you drive your own vehicle when conducting business, Nationwide requires at least $100,000 commercial auto liability coverage per vehicle, with a recommended minimum of $500,000 up to a maximum of $1 million. Liability insurance protects your company's assets. You may also opt for more than the minimum coverage and consider a more expensive business commercial umbrella policy. This would pick up where your other liability stops.
4. Retain Your Federal and Local Tax Registration
According to an Automatic Data Processing Inc. publication, air freshener business employers must retain all records that relate to employee payments, tax reports and deposits. Federal Income Tax withholding documents relate specifically to W-4 forms, which every employee must fill out to establish income tax withholding from earnings. After an employee submits this form, the employer must keep it in a personnel file. It should be updated if circumstances change.
The retention period for W-4 forms is a minimum of four years after the date that taxes were due or paid, whichever comes later. This is also true for all employment tax records. Some states have varying retention periods that range from none for Nevada and Tennessee to six years for Michigan and eight years for Minnesota. The Internal Revenue Service permits employers to retain W-4 forms either in paper or electronic format on a CD-ROM or computer hard drive.
At the end of the retention period, the Fair and Accurate Credit Transactions Act requires the effective disposal of tax documents. The Federal Trade Commission suggests burning or shredding them. If tax documents have been stored on electronic media, the information must be destroyed completely to prevent anyone from resurrecting it for their own dark purposes.
5. Set Up A Toll-Free Phone Number
Toll-free numbers are vital business assets, no mater how big or small a company may be. They enhance a company's image and foster a tacit credibility as well as aid in increasing both sales and ROI. They improve customer service, which is especially important with an air freshener business. They are usually easier to remember than regular phone numbers especially if they are vanity numbers such 1-800-Plumber etc. It also doesn't matter where you work. It could be a cubicle, a large office area or even your own garage. When a customer calls, they have they have no way of knowing where you are. Once you buy a toll-free number, it belongs to you and no one else can use it.
An air freshening business needs to establish a lifeline to its customers that is both free and convenient. Toll-free numbers are effective marketing tools that permit callers to reach businesses and/or individuals out of their local areas without being charged a long-distance fee. They can be dialed from landlines, but wireless callers will be charged for the call unless they have an "unlimited calling" plan. These numbers are commonly used in customer-service sectors.
Toll-free numbers begin with one of the following three-digit codes: 800, 888, 877, 866, 855 or 844. They are assigned on a first-come, first-served basis by entities known as "Responsible Organizations." Certified by Somos, Inc, these RespOrgs have access to a toll-free database that retains the status of all toll-free numbers. The FCC establishes the guidelines for obtaining and using toll-free numbers but they cannot provide any information about the status of a number.
6. Create A Business Website
Building your own website may appear at first to be an obstacle akin to mastering another language. While, to a certain extent, it is, as HTML code is certainly a language of its own, a customized site is a reachable business goal, especially with the help of an expert website and SEO design vendor such as Seopya. You can also opt to build a website yourself. Basically, there are just a few simple steps involved.
Choose and register your domain name with Go Daddy or Hostgator
Opt first for .com suffix for your business name, as that is the one most consumers use. If you can't get that, search for .net or .info. One way to get around a .com name that may be already taken is to add a location to the URL. For example, a name like Jones Brothers based in Brooklyn, New York, could become www.jonesbrothersbrooklyn.
Choose your platform and host
This is an important decision as the chosen host is the service that actually stores your website and transmits it to visitors. There are many good ones out there, like Hostgator, Bluehost, Godaddy and others. Then, once you set up your hosting account, you'll want to choose the platform from which to build your website. Some easy, highly recommended options are WordPress, Wix or Weebly. WordPress is an intermediate website builder with a traditional edit menu and is probably the most robust. Wix and Weebly are a little easier, and each lets you edit the website just by dragging and dropping elements. For the small business owners for whom HTML is indecipherable and who are not too technologically savvy, Weebly fares a bit better.
Outline website content
Decide what you want your air freshener customers to know about you and your company. Best of all, you don't need to say much, as business websites work best when they feature minimal text. Some sections you should include are: an attractive homepage with contact and location information and a page about products and services your freshening business offers. For this page, it is recommended that you write one to five sentences describing each product and its price.
Other suggested website inclusions
You should also include an About Us page, which informs potential customers about your history and background and an FAQ page. A Contact Us section is also helpful, and it should include: the address, email, phone number, business hours, directions and links to social media accounts, if available. Other helpful features that accommodate online shoppers are: easy payment methods such as PayPal or Apple Pay, and purchase reminders about leaving something in their shopping cart.
7. Create An Attractive Label For Front of Dispensers
Labels are like water. They are everywhere. Every business has one and that means yours must stand out among the others. One important label rule of thumb (if there is such a thing) is to create a label that no one else in the world has. While the idea may be daunting, it also dares you to be different. The more unique and personalized your label is the better. Labels help to grab the attention of consumers and their importance is often underestimated (labels not customers).
Down through the decades, many businesses have used attractive labels and packaging as distractions from the fact that their products differ little if at all from their competitors. Labels have power, as a bad one can turn customers away and an effective one can lure them in like frugal bargain hunters drawn to the promise of 50% off anything at all. There are a few things to consider before deciding on a label. They include: the right size, quality, visual effect, smart text, good color selection and shape. Labels are meant to inform consumers about the products they are about to purchase.
Canva is a wonderful free source for creating a business label that will be exclusive to your own air freshener products. They have a vast collection of templates to choose from, and easy to use design tools that can create a customized label in minutes. You can download your label design as a print-ready PDF of high-resolution, PNG and JPEG files. Best of all, Canva allows for easy customization of design elements, such as fonts, colors, background and text. If you are heavy into visuals, icons and images can help. This site also maintains an enormous library of stock photos, illustrations and icons.
8. Set Up Excel Business Systems For Billing and Receivables And Payroll
Why do you need a billing system?
The moment you decide to hire someone in your air freshener business, a proper payroll system must be put into place. According to some business experts, it's even better to install such a protocol before this happens, but to each entrepreneur, his or her own. Payroll can be a complicated process that must be done smoothly and legally and the stakes couldn't be higher even if you live, love and play in Las Vegas. If a mistake is made with a vendor payment, restitution will cover it up, but if an error in payroll occurs for whatever reason, both state and federal laws and IRS service rules are involved and it can result in costly penalties.
The first step in establishing a billing and payroll system is to clearly understand what it must do for you. Basically, there are three specific jobs; record-keeping, paying both employees and tax collectors and filing tax reports. Record-keeping includes working hours, overtime, sick time and vacation pay for each employee. Keeping track of tax records is a mandatory practice. IRS employment forms: (I-9s, W-4s, and W-2s) must be distributed, filled out and properly entered into your payroll system. According to the IRS, employer tax records must be retained for at least 4 years.
Please feel free to give your inquiry in the form below.
We will reply you in 24 hours.